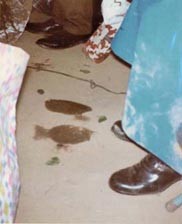 In the very beginning of the apparitions at Bayside, Veronica would usually arrive around 9 pm, kneel in prayer, and join in with the Rosary. Her ecstasy would commence abruptly, and she would describe what she was seeing. This was recorded on tape, as are all the messages she received, immediately after her description of the celestial scene. Although Veronica had attended almost all the vigils up until the late 1970's, this was no longer the case, in fact the last years she was only present at the vigils when Our Lord and Our Lady wish to present another public message to the world. There are really several reasons for this.
First- Veronica's health was extremely poor, and she suffered from many major maladies. Like the many saints that have gone before her, Our Lord has told her that she must be a "Victim Soul", and offer up her sufferings for sins of the world. Great sufferings have always marked the lives of those in the past who have been privileged to have heavenly visions, and Veronica is no exception. As Our Lady told St. Bernadette at Lourdes "I cannot promise you happiness in this life, but only in the next."
Second- Our Lady came to America (Bayside, New York) to plead for a multitude of prayers for a sinful nation and world. The pilgrims who came to these special grounds, some having traveled hundreds of miles, come as part of a pilgrimage of reparation. Their precious prayers are gathered by Heaven on these Sacred Grounds and used with God's Wisdom to save the souls of those who would otherwise fall into hell. Our Lady has asked that we come to these grounds, not to be entertained by seeing Veronica in ecstasy, but in fact to offer up our prayers which are "sorely needed", and to obtain the graces necessary for the days ahead.
Although, at first, some people may feel disappointed when Veronica is not at the vigil they attend, it does not last long. Our Lord and Our Lady have promised that they would "always" be there, and they show this to each and every pilgrim who comes by touching their hearts in some individual way. The miraculous pictures, the rosaries turning gold, the crowd prays aloud, Mary, light of the world, pray for us. Our Lady of the Roses, pray for us. Mary, help of Mothers, pray for us.
Hundreds of roses in many colors usually decorate the Shrine, which has to be set-up and dismantled for every vigil. At the end of the evening, they are distributed to the crowds. Our Lady has told Veronica that the petals of these carry the graces for cure and conversion. The spiritual benefits that the pilgrims receive from attending the vigils obviously vary from person to person. But it can be said, that most go back home with a serene joy in their hearts, for Our Lady at Bayside has a way of giving just what each person has the greatest yearning for.
Check The Shrine > Map & Directions, for step by step instructions on how to get to the Vatican Pavilion on Flushing Meadows Park, NY.
Check The Shrine > Vigil Calendar to view the Vigil Calendar.
You can also join us by phone conference dialing *(712) 432.0075 code 546958#: on Vigils days at 7:00 pm, on non-Vigil days at 7:30 pm EST.
*This is a free conference call. Please consult with your phone carrier for any fees they may have separately.