Our Lady of the Roses Audio and Text Messages have copyright and are property of Our Lady of the Roses®.
All Messages are free to the world and have the Official Shrine address and contact information of Our Lady of the Roses, P. O. Box 52, Bayside NY 11361.
Th
e Messages from Heaven may not be used with any other contact information other than the Official Shrine, and cannot be used for commercial or worldly gain, these are clear instructions from Our Lady.

At the Vigil of August 14, 1972, Our Lady asked that the messages be compiled:
All messages of the past will be compiled into three books. They will come in this order: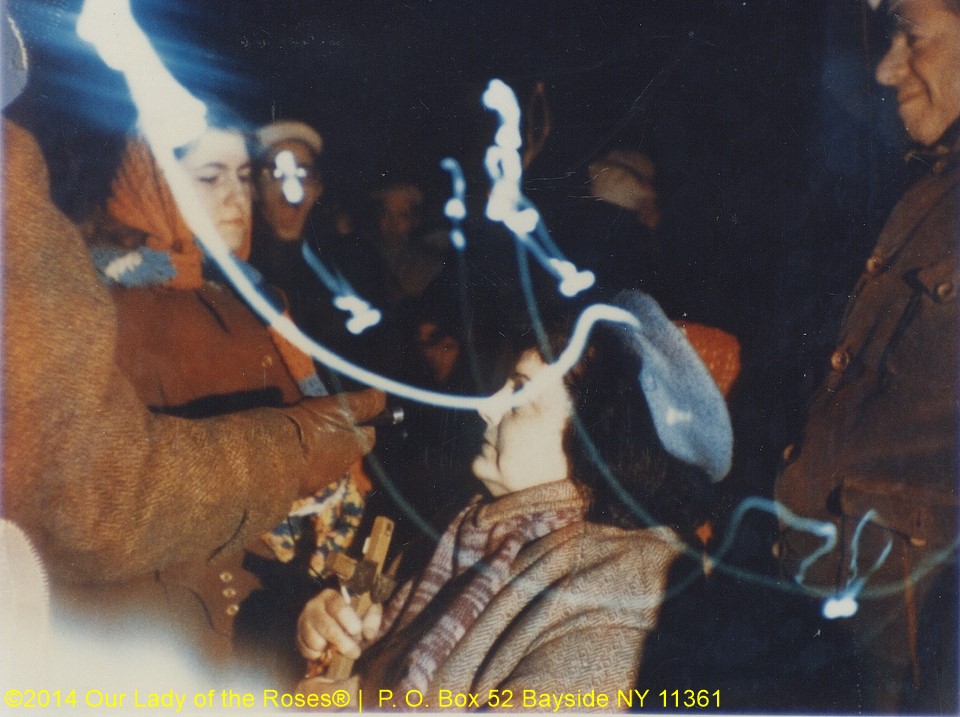 1. The Word Messages of My Son and the Personages of Heaven to the world.
2. The Occulations from Heaven in poetical theme.
3. Conversations with My Son, Jesus.
These books will be put together as quickly as possible and given to the world. You will concentrate, My child, on reaching the high* priests in My Son's House.
*High priests - Our Lady is referring to the bishops and cardinals.
---
PDF Format Index book of over 75 TOPICS, leaflets on the messages from Our Lady of the Roses through Veronica - many topics, visions, Veronica's talks, letters, poems from St. Therese, early notes and more.
Index book of over 75 TOPICS part ONE
Index book of over 75 TOPICS part TWO
---
Click this link to view the messages in PDF Format, you may download or print this document.
Book 1 The Word Messages 1973-1994 in English
Messages of 1970 -1971 typed by Veronica, part-I (pages 1 - 23)
Messages of 1970 -1971 typed by Veronica, part-II (pages 24 - 41)
Messages 1970-1972 - Under construction
---
Messages Occulations from Heaven 1st Edition
Veronica's Talk on Good and Evil - 'His Satanic Majesty'
---
Comprehensive INDEX of the Messages (184 pages)
Message Book - INDEX of Visions Messages to Veronica 1970 - 1994 (35 pages)
Message Book - INDEX o f Saints and Angels by David Skovman
---
INDEX Concordance Book (13 pages)
Concordance of the Messages I (500 pages)
Concordance of the Messages II (500 pages)
Concordance of the Messages III (485 pages)
Index of the Messages to Veronica (1485 pages)
Douay Rheims Bible
Bayside Visions by David Skovman
Seven Words from Jesus from the Cross, by David Skovman
Directives - Restore My Chur ch
MESSAGES ON TOPICS
Abortion_Muder_Innocents
Abortion - Slaughter of the Innocent
Blasphemy_Major_Offense
Chastisement_Warning_1973 New
The_Ascension_of_Our_Lord
The Family Directives New
The Rosary - Pearls of Prayer New
The Way to Heaven New
The Nativity of Our Lord
The Transfiguration
The Passion, The Way of the Cross
The Passion of Our Lord
The Precious Blood
The Road to Heaven
The Sacred Heart of Jesus
The Immaculate Conception
Marriage_Dissolvement
Our Lady of Lourdes - Vision
Our Lady's Nativity
Our Lady of LaSalette - 1846
The One True Faith - Roman Catholic
Modesty and Purity
Sequence of Events
Bayside Visions
Laity_Clergy_Counsels
Messages_Eucharist
Mother's come to Me
Mother's Counsel
Mother's Counsels - I
LaSalette_1977
Our_Lady_Crowning
Eve_Queenship_OurLady
Moses_and_Commandments_of_God
Commandments _of_ Moses
Moses_Commendaments_of_God
Nakedness_Miscontructed_in_the_Bible
One World Order - New World Order (NWO)
One World Order - Illuminati
One_World_Religion
Purgatory 2017 New
Remain in your Parish Church New
Communism
Life After Death - Veronica Speaks
The Little Office of the Immaculate Conception
The Culmination of Armageddon - Egypt
The Family Counsels
The_Family
Tribulations_Of_Earth
Vision of Moses and Ten Commandments
---
Messages Booklet -Messages on the I mmaculate Heart (20 pages)
Messages Booklet - Messages on the Road to Heaven

The Rosary and Brown Scapular (1 page)
America the Beautiful Visions and Messages
America the Once Beautiful
For America
America, Heaven's Counsel
Blasphemy, The Major Offense
The Promises from Heaven
The Plan of Redemption

MESSAGES FROM THE PERSONAGES FROM HEAVEN

Angels - Legions of Christ
The Archangels
The Saints
Saints Ann and Joachim
StAnne_StJoachim_to_Veronica
StTherese_Discourse_To_Convents
StThomas_Aquinas
Saint Michael The Archangel
Saint Michael - Counsels-I
Saint Michael - Counsels-II
Saint Michael September 28, 1976 - Rome
Saint Raphael Archangel
Saint Robert Bellarmine - Counsels
Saint Thomas Aquinas
Saint Louis de Montfort
PopeJohn_XXIII
PopeJohnPaul_II
Saint_PadrePio_Messages
SaintPeter_Counsels
Saint Robert Bellarmine
Saint Joseph
Saint Joseph - II
Fatima, the Three Children
Fatima, Final Requests
Jacinta 1972
Jacinta 1972 - Part I
Jacinta 1972, Booklet
Jacinta 1972, Booklet-II
Jacinta 1972 - Explained
Fatima, Veronica speaks
OurLadyofLourdes_and_Bernadette
Saint_Theresa_of_Lisieux
Saint Therese Counsel
Saint Therese Counsels - II
Future Carmelite Order of Our Lady of the Roses


---
VIGIL MESSAGES in booklet form to read or printout
V igil Hymn Booklet , Vigil Hymn Booklet - 2013 , Vigil Hymn and Holy Hour Booklet, Vigil Easter Season Booklet - May Crowning Hymn Booklet
Photos of May Crowning - Several Years

By Years:
June 18 Messages for 24 Years - Vigil Messages from 1989 - Vigil Messages 1990-1994 Booklet - Vigil Messages 1970-1971
1970
Vigil June 2, 1979 - V igil July 1, 1970 - Vigil July 15, 1970 - Vigil November 21, 1970
1971
Vigil April 3, 1971 - Vigil May 30, 1971
1972
Vigil April 10, 1972 - Vigil October 2, 1972

1973
Vigil May 23, 1973 - Vigil April 21, 1973
1974
Vigil March 24, 1974 - Vigil June 15, 1974 - Vigil August 7, 1974
1975
Vigil of Pentecost May 17, 1975 (last Vigil in Bayside before relocating to Flushing Meadows Park by the Queens Court)
Vigil September 13, 1975 - Vigil September 14, 1975 - Vigil December 31, 1975

1976
Vigil December 28, 1976 - Vigil December 28, 1976-I - Vigil December 28, 1976-II
1977
Vigil August 5, 1977
1978
Vigil May 13, 1978 - Vigil September 28, 1978 - Vigil November 20, 1978 - Vigil November 25, 1978
1979
Vigil October 2, 1979
1980
Vigil Messages of 1980
1981
Vigil May 30, 1981 - Vigil June 13, 1981
1984
Vigil June 18 1984
1985
Vigil September 14, 1985
1986
Vigil May 17 1986
1992
Vigil October 6, 1992