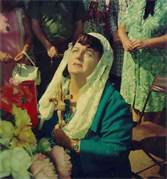 The Truth about the So-Called Investigation
by Veronica Lueken
Now, there was no formal investigation in reference to Our Lady's work in Bayside.
For many years, I say many, because Our Lady first started Her work with me, through me, in 1968 with St. Theresa. During that time, I approached many priests, trying to find a spiritual director, but it was not in the will of God, and later of course, I found out through Jesus that, He said, His very words, were "you will do better by yourself, My child. I will direct you, you will go further." I understand now why He said that. Experience has taught me that if I had been under a spiritual director, Our Lady's message would have been silenced a long time ago.
However, only Heaven knows the count of souls that we have been able to gather for Jesus in the time of the persecution. It's a minor persecution we undergo in comparison to Jesus' trials and His cross. However, I want you to know the facts about the so-called investigation. I don't do this to try to cast any slight upon the individuals concerned, but the facts must be given. Not in defense of myself, because I do not have to defend myself, or my actions for Our Lady. I am only in obedience to Jesus and Our Lady.
Click here for the full document on The truth about the so called Investigation
Sister Kathreen A letter to proof that there was no formal investigation
Fr. Bernard Nunes An Article In Defense Our Lady's Apparitions
The Miraculous Photos are evidence for the investigation
"You will continue to read the photographs very carefully My child. They are a special grace to give you strength in the mission ahead. They will also be in the future positive evidence for the investigation."
Our Lady, December 27, 1975
---
For those who have faith - no explanation is necessary!
For those who do not - no explanation is possible!