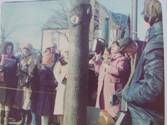 TESTIMONIAL LETTERS TO THE SHRINE
"Know the plan from Heaven. The numbers that will gather will triple and far exceed what you could ever expect in your human expectations, My child. There will be cures and conversions beyond what man has experienced in your country. It is in this manner My child, that the work for My Mother's Shrine shall go forward."
Jesus, May 28, 1975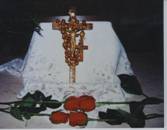 By the Grace of God I'm here. My crew and I were one block away when the World Trade Towers came down. All were saved. Thank you Father for the loving kindness and protection. All Glory and honor is yours Almighty Father in Jesus' name. Amen and Amen.
Testimonial of September 29, 2001
... Half way through the Vigil I went to my car to warm up. I was under dressed on this chilly night. While sitting in my car, I looked to my left above the trees. There was ....
Testimonial of March 24, 2006

I prayed to many saints. I put the rose petal and Veronica' picture on my chest and prayed that my CAT scan would be negative for any new growth or change in the nodule.
Testimonial of March 29, 2004
Click here to view PDF format, you may print or download this document.
Testimonials - Cures and Conversions
Testimonial Cure from Veronica 'Heavenly Surgery'
Testimonial Letters 2001 Lent and Easter
Testimonial Letters 2003 September
Testimonial Letters 2005 December
Testimonial letters 2005 January