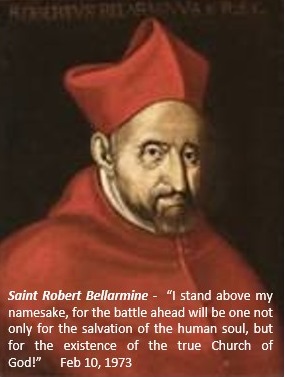 PDF Format Directives from Heaven, leaflets on the messages from Our Lady of the Roses and our Lord Jesus Christ. We have divided them in three books for your convenience, please click the links below to view or download these beautiful messages.
Directives from Heaven, Index
Directives from Heaven, book ONE
Directives from Heaven, book TWO
Directives from Heaven, book THREE
TAKE TIME TO HONOR YOUR GOD
"Place more attention upon the Holy Sacrifice. It is being celebrated in a manner that is not approved of by the Father. Take the time to honor your God with your heart. My brothers and sisters, the Holy Sacrifice cannot be celebrated in thirty minutes, or even in sixty minutes, properly. There is no time in Heaven and you shall not place a time upon the Holy Sacrifice on your earth."
Padre Pio, Vigil of April 5, 1975
---
NO ORDINATION OF WOMEN
The simple plan for the redemption of mankind was given in the past by your Prophets. Already, we hear you clamor for the ordination of women! No women shall stand in My House to represent Me! How dare you bring heresy to My House! I shall go among you and I shall sling you out from My temples!
Jesus, Vigil of December 27, 1975
---
NO COMMUNION ON THE HAND
"Remain close to the Eucharist, the Bread of life. But do not become misguided: do not accept My Son's Body in your hands. Satan, Lucifer, came as an angel of light and set his agents among the hierarchy of My Son's Church and deluded them. All manner of abominations are being committed upon My Son's Body now.
Our Lady, Vigil of July 15, 1978
---
KNEEL FOR COMMUNION
"My children, kneel before your God in the Eucharist. Do not stand like you stand in meeting halls, but kneel and give Him a just love and observance of honor."
Our Lady, July 14, 1979
---
JESUS WAITS FOR YOU
"Honor My Son at the tabernacles of the world. He waits for you. Accept His love, which He wishes to share with all."
Our Lady in locution, January 31, 1992
---
SACRAMENT OF CONFESSION
What manner of evil is being set now upon mankind that compels him to lose his soul by rejecting the Sacramentals, by no longer confessing to his confessor, but coming to receive My Son in sacrifice, while his soul is degraded by sin of mortal nature."
Our Lady, September 7, 1976
---
THE MUSICAL MASS
"Should you go and wish to buy a small instrument, even a guitar, that We hear plucking away at the dervishly, and devilry, of what is called the musical mass, strung by guitars, and other creations of satan.."
Our Lady, September 7, 1985
---

THE ROSARY AND THE SCAPULAR
"My child, you will make it known to the world that the Rosary of prayer and the Scapular for protection shall be the major instruments from Heaven to safeguard mankind in the days ahead.
Our Lady, July 15, 1978
" The beads, the sacramentals - the hope of the world. The salvation of mankind is with these - the treasures of Heaven given to you in the mercy of the Father. A heavy cross will be given - set upon earth."
Our Lady, August 21, 1973